Since 1969, the history of our company has been written by you, choosing us for the transportation of your goods. For 50 years now we have grown up with you, always delivering with consistency and respect what you trust us.
We are proud that three generations later, having developed a state-of-the-art pancreas network, we continue the wonderful journey of always looking ahead, investing daily in providing certified and quality services as well as in the evolution of our human resources.
Throughout our activity and despite the difficulties of the times, we have been able to achieve with your own support the goals we set. In a brief overview, we highlight unique points in our evolution, such as:
The expansion of our headquarters in Athens. In 1969 we started with only 1,000. facilities in the area of ​​Rentis, while today we count more than 4,000.
Achieving the development of a state-of-the-art transport network with full coverage of Crete that extends from Chania, Rethymno to Heraklion and Lasithi.
The establishment of our two branches in the area of ​​Heraklion Crete to serve the distribution and storage of dry and refrigerated cargo.
Expanding our services by serving loads at all temperature conditions.
Certification of our services with the international standard ISO 9001: 2015 and HACCP, as well as our compliance with the new GDPR regulation.
And because in our profession "numbers" are an integral part of our daily lives, let's see how all of the above are embedded in numbers for our company in the anniversary infographic below: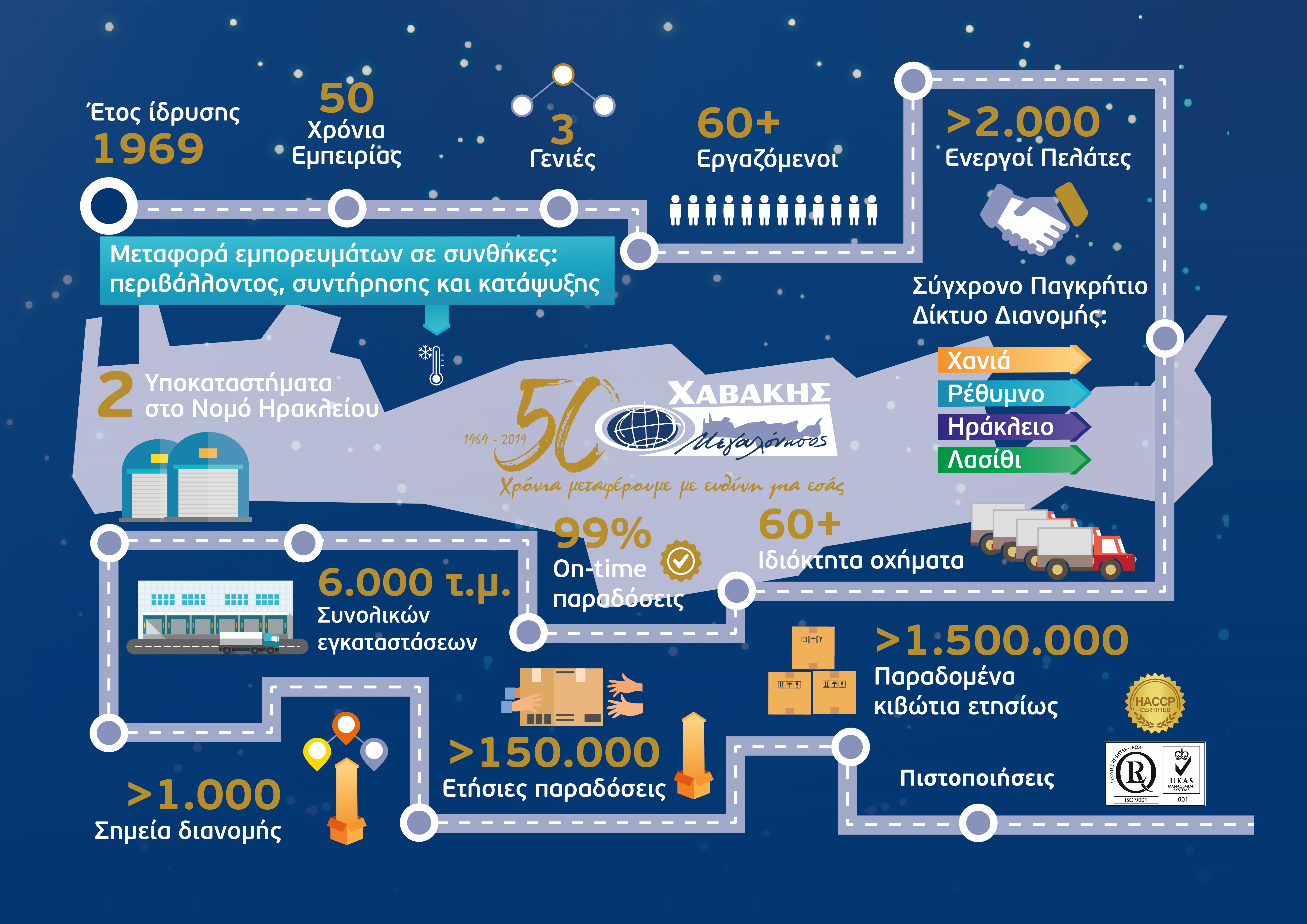 Warm thanks to our customers for the confidence they surround us, our suppliers and partners, as well as a big thank you to our human resources that have been the foundation of our company for so many years. We thank you all and each one for the confidence, support and strength you give us to keep going!
We are committed that these 50 years are just the beginning!