TRANSPORTS FROM AND TO CRETE
Since 1969 we have been responsible for the transportation of our customers 'and partners' goods from and to Crete. On a daily basis, we continue with a persistent desire to improve the quality of our provided services by "listening" to market needs and developments in supply chain sector.
Daily transfers from and to Crete both full and groupage cargo
Full Crete Coverage:
Lasithi
(Agios Nikolaos, Sitia, Ierapetra)
Heraklion
Rethimno
Chania
Transport of goods in all temperature conditions


Deliveries of goods to final destination:
Up to 24 hours for areas of Crete within urban centers (requires prior notification by dispatchers)
Up to 48 hours for inaccessible and remote areas of Crete
100% reliable collection and payment of pay-on-deliveries

Immediate and valid information to our customers regarding orders to be executed both by phone and online
Safekeeping of goods from collection to delivery
Insurance coverage of our liability

Telematics vehicle fleet monitoring

Pre-estimate shipping cost free of charge

Extra services:                                                                                     
Palletizing capability
Management of returns (Reverse logistics)
Possibility of receiving the goods according to the customer's order from customs, airport, production plant etc.
Empty pallet management
Document management - Document Flow - Archiving
Consultancy
Export performance indicators (KPIs) and analytic reports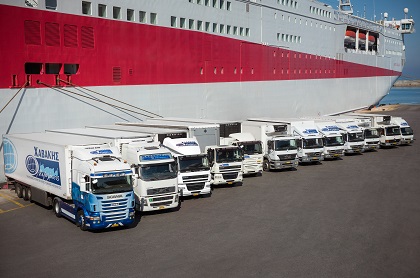 Our experience extends to the following categories of goods:
Food & Beverage
Clothing & Footwear
Appliances
Electronics
Household goods
Industrial products
Cosmetics
Pharmaceuticals
Vegetables
Tobacco


TRANSPORTS ALL OVER GREECE
After 50 years of presence in the transport sector, we have developed an organized nationwide network of reliable partners for the transportation and distribution of goods throughout the Greek territory. Both full and groupage cargo can be transported in all temperature conditions with the required certifications and appropriate safety measures. All of the above-mentioned services provided for the territory of Crete also apply for national freight transport.
You can read more about our facilities and fleet, our security measures and technologies: